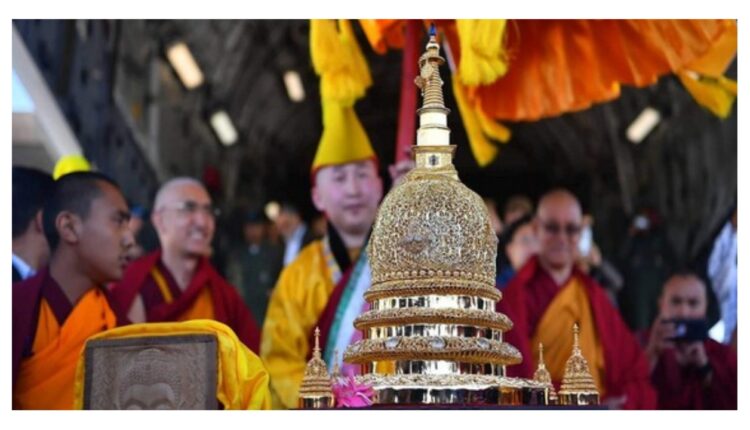 THE HOLY RELICS FLEW TO MONGOLIA
Out of the twenty-two Kapilavastu Holy Relics of the Buddha, kept in the main museum in New Delhi, India, four Holy Relics were reverently taken to the capital of Mongolia, Ulaanbaatar for an exposition on June 14th Poson Poya Day.
The four Kapilavastu holy Relics were accompanied by twenty-one other Holy Relics. They were exposed at the Batsagaan Temple in Gandan Tegchenling Monastery in Ulaanbaatar for 11 days.
The Holy Relics were placed in a bulletproof casket, and were reverently taken to Mongolia in a special air craft belongs to the Indian Air force. A 25-member delegation, led by Union Law Minister Kiren Rijiju,  accompanied the Holy Relics on the journey to Ulaanbaatar.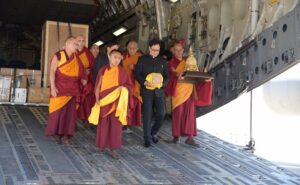 The photo of Most Venerable Khensur Rinpoche Jangchup Choeden bringing the Casket of Holy Relics out of the aircraft.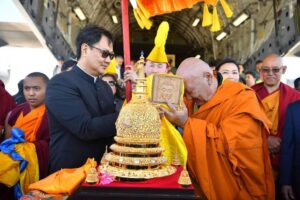 The photo of His Holiness Khambo Lama receiving the casket of Holy Relics from the Indian Union Law Minister, Mr. Kiran Rijju.
© Satipatthana Magazine