HIS HOLINESS THE DALAI LAMA ARRIVES IN LADAKH
His Holiness the Dalai Lama arrived at his official residence in Jammu Kashmir, India on July 15th.
His Holiness was given a rousing welcome by a huge gathering in the city of Leh in Ladakh.
His Holiness the Dalai Lama met with a group of more than 400 Ladakhi students who are studying there. During an hour-long interaction, he reminded them how Mahatma Gandhi promoted 'ahimsa' as a political tool during India's freedom struggle.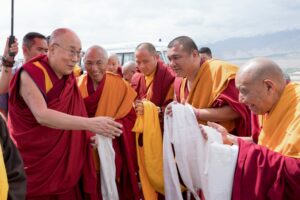 His Holiness told the gathering "I would also like to take this opportunity to encourage you to plant trees whenever and wherever you can. My friend the late Indian environmental activist Sunderlal Bahuguna entrusted me with the task of reminding the people of the Himalayan region of the importance of trees. Planting and caring for them is a crucial step we can all take toward offsetting global warming and climate change.