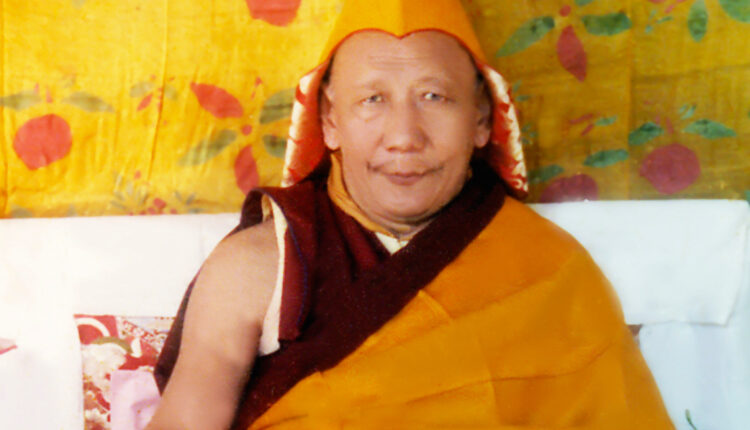 The Life of My Teacher: A Biography of Kyabje Ling Rinpoche
The significance of the Sixth Ling Rinpoche's influence on his student the Fourteenth Dalai Lama, Tenzin Gyatso, cannot be overstated. The Life of My Teacher: A Biography of Kyabje Ling Rinpoche, written by His Holiness the Dalai Lama, provides a testament to His Holiness' devotion to his profoundly accomplished and kind senior tutor. His Holiness writes, "when Ling Rinpoche passed away in December 1983, I felt as if the solid rock I had leaned on for so long had suddenly vanished."
Born in 1903 in Kyisho, Tibet, Kyabje Ling Rinpoche Thupten Lungtok Namgyal Trinle received his lharampa geshe degree at the age of twenty-one from Loseling College of Drepung before continuing his studies at Gyuto Tantric College. Ling Rinpoche received teachings from the Thirteenth Dalai Lama and was mentored by Phabongkha Dechen Nyingpo.
In 1940 Ling Rinpoche was appointed the senior tutor to the young Fourteenth Dalai Lama. "In guiding me through my education," His Holiness writes, "Ling Rinpoche was like a loving father to me, and it was under his watchful eye that I passed my final geshe examinations at the Great Prayer Festival in Lhasa in February 1959. In the early years of our lives as refugees in India, too, Ling Rinpoche's supportive presence was something I could always rely on."
In 1965, Ling Rinpoche became the Ninety-Seventh Ganden Tripa, holding the position for nineteen years. This position, as well as tutor to the Dalai Lama, have historical precedent in the Ling reincarnation lineage. The First Ling Rinpoche, Hor Dondrup Gyatso, and the Fourth Ling Rinpoche, Ngawang Lungtok Yonten Gyatso, were appointed Ganden Tripa. Tutors to the Dalai Lama have included the First Ling Rinpoche, the Fourth Ling Rinpoche, and the Fifth Ling Rinpoche, Losang Lungtok Tenzin Trinlae.
Ling Rinpoche was also known "as a great yogi whose identity had become fused with that of the meditation deity Vajrahbairava," Geshe Thubten Jinpa, who served as the biography's general editor, notes in the book's Introduction.
The Life of My Teacher, originally published in Tibetan, is the only biography composed by His Holiness. With its composition, His Holiness maintains the Tibetan tradition of students documenting the lives of their spiritual teaches. Rato Khyongla Rinpoche, another of Ling Rinpoche's close disciples, assisted with writing the biography. Throughout it, His Holiness often refers to Ling Rinpoche in honorific terms such as "Guru Vajradhara," "the Vajradhara tutor," and "the precious tutor."
The Sixth Ling Rinpoche has also been an important figure for FPMT spiritual director Lama Zopa Rinpoche, going back to his childhood. In 1961, ten-year-old Lama Zopa Rinpoche was studying in Ghoom Samten Choling Monastery in Darjeeling. "While the Kyabje Vajradhara tutor was staying at the monastery," His Holiness writes, "he would often take Lama Zopa on walks with him. They would often eat together and so on, and Rinpoche liked him very much." In addition, many early FPMT students directly received teachings and initiations from Ling Rinpoche, including the biography's translator, Gavin Kilty.
In the following excerpt from The Life of My Teacher, His Holiness describes his departure with Ling Rinpoche from Tibet in March 1959 and the activities of the precious tutor during the following year.
Source: fpmt.org
Read the complete print magazine article as a PDF:
"The Life of My Teacher: A Biography of Kyabje Ling Rinpoche"