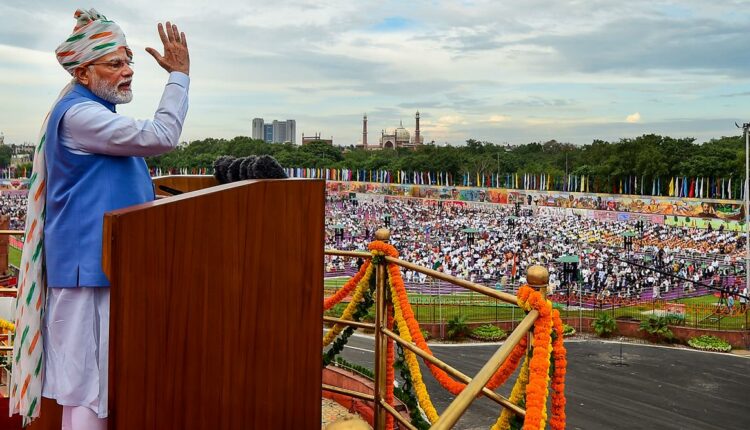 SRI LANKA STANDS IN SOLIDARITY WITH INDIA
By Dr. Damenda Porage
India is celebrating her Independence Day, on August 15th, 2022, under exuberant conditions of her vibrant and long-sustaining democracy, remarkable socio-economic growth, national harmony, and peace and goodwill of all democratic world.  It is a rare achievement for a country of the vastness, magnitude, and complex diversity of its people, but under the iconic and statesman leadership of Prime Minister Shri Narendra Modi, as also his state manly predecessors, it has become a reality.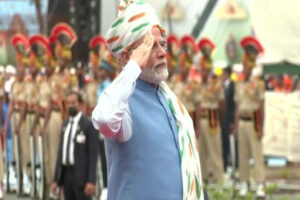 We, together with the Sri Lankan Maha Sangha and all people and leaders, are delighted to convey our heartiest greetings to the government and peoples of India on this auspicious occasion and salute "the great Bharat, the Sovereign, Socialist, Secular, Democratic Republic".  India is to us much more than an immediate neighbor. India is our friendly and brotherly neighbor with historical, religious, cultural, and linguistic ties which are inalienable.  India has repeatedly proved that she has been there for us at times of our desperate situations throughout the long history of our relations. Her assistance and contributions are mountainous and multifarious without which we would not have been able to survive as a sovereign, independent and united nation today.
It is appropriate to mention on this occasion of India's Independence Day celebrations that the colonial British rulers did not offer India's independence on a silver platter. Under the iconic leadership of the father figure Mahatma Gandhi, thousands of the then-Indian national leaders, patriots, and the people waged their non-violent freedom struggle for years together, sacrificing lives and everything they valued and owned. The black pages of history bear witness to the inhuman, unjust, and barbarous violence let loose by the colonial rulers to suppress the struggle which included mass manslaughter, horrible incarcerations, and heart-rending incidents of every inhuman kind. The Indians stood their ground in the path of non-violence and won their national freedom. It is a historically recorded epic. Prominent Sri Lankan national leaders and patriots of the yesteryear, both Sinhalese and the Tamils, had supported and joined the Indian freedom struggle and followed suit back in Sri Lanka, and many Indian national leaders, including Mahatma Gandhi, Jawaharlal Nehru, and Sarojini Naidu and others had made frequent visits to Sri Lanka at that time to encourage the Sri Lankan freedom struggle.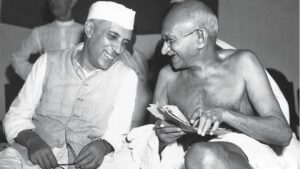 The lively democratic governance and improved socio-economic conditions prevailing in India, no doubt, are mainly due to their unwavering commitment to the continued practice of non-violence and secularism.
Sri Lanka has derived almost everything from India, ranging from Buddhism to the rich culture, to traditions and linguistic background. The recent adverse economic crisis in Sri Lanka and India's magnanimous support and humanitarian assistance signify that Sri Lanka is drawn towards India and Sri Lanka's well-being will depend largely on India's growth in the economy and all other sectors. The worst-case scenario that progressively evolved in Sri Lanka over the recent decades, years, and months, and India's prompt and unrestrained support to address them may be indicative of it.
Chronicles have revealed the presence of the Buddha on the Sri Lankan soil on many occasions to bless the land and guide the people on the noble path of compassion and nonviolence. The arrival, followed by that, of the virtuous son and daughter of Emperor Dharmashoka, Ven. Arahant Mahinda Thero and Ven. Sangamitta Theri, bringing with them the Bodhi Sapling and Buddhism, which the Sri Lankans embraced, are symbolically and magnificently represented by the Jaya Sri Maha Bodhi in Anuradhapura.
Sri Lanka remains grateful to Indian Prime Minister Shri Narendra Modi and the government under his helm for the committed assurance towards promoting and preserving Buddhism in Sri Lanka and their continued support in every possible way towards that cause, and for preserving Buddhist shrines and places of Buddhist archaeological value and on opening the doors for the international Buddhist community to visit to pay their homage and also on observing and celebrating significant events in the Buddhist calendar.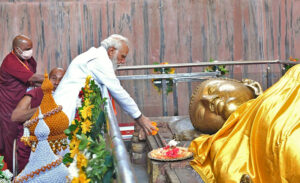 We reminisce, under a deep sense of gratefulness and delight, the participation of Prime Minister Shri Narendra Modi, together with the Prime Minister of Nepal, to celebrate Buddha Purnima Day (Vesak Poya Day) in Lumbini, the place of birth of the prince Siddhartha, his attendance as chief guest to declare the airport at the Buddhist pilgrim city of Kushinagar in Uttar Pradesh on October 10th, 2021, to declare the airport as an international, airport, in which event more than one hundred members of the Sri Lankan Maha Sangha, including very senior monks and a government ministerial delegation were hosted, and the participation of the Indian Prime Minister at the celebrations in Colombo to mark the UN-declared International Vesak Day in May 2017.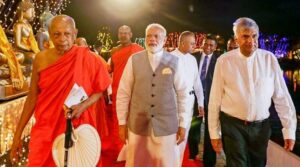 We also gratefully remember the mountainous and inimitable efforts and support India extended towards resolving the Sri Lankan internal crisis; towards the restructuring, rehabilitation, and resettlement of the displaced people of the war-torn region along with rebuilding virtually all dismantled and damaged infrastructure in those areas, and vast housing projects at staggering expenditures of hundreds of billions of rupees; the assistance and support to address the coronavirus pandemic that ravaged Sri Lanka; and the magnanimous support and humanitarian assistance to feed and rescue the starving Sri Lankans in the recent months, joined also by the state governments; and many more prompt and timely help and assistance. As a delightful surprise, India has gifted this Independence Day, a Dornier Reconnaissance Aircraft to Sri Lanka in the presence of President Ranil Wickremesinghe.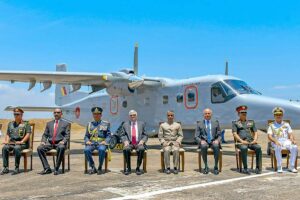 Our heartiest wishes and greetings to India on this auspicious day. May this great land be protected from all evils and may the people of India enjoy peace harmony and prosperity in the years to come!
Jai Hind!
Dr. Damenda Porage
Chairman,
Foundation For Buddhist Brotherhood.
16.08.2022