The month of July is when Buddhists all over the world celebrates "Dhammachakka day" also known as "Asadha Poornima".
This year, in spite of the current pandemic situation, the International Buddhist Confederation IBC organized a virtual commemorative ceremony and a chanting of "Dhamsak Sutra" with over 40 Buddhist countries worldwide.
The commemorative ceremony gracefully began with a "Dhammachakkapavattana Sutra" chanting at 7.30 am where the Buddha chanted his very first dhamma discourse, Isipathana Deer park in Saranath and "Mulagandhakuti" temple, Kushinagar.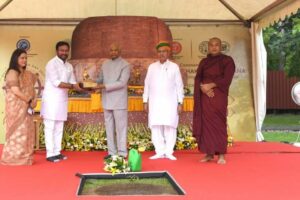 After the chanting the second half of the morning ceremony was carried out in the premises of the Presidential palace of the President of India His Excellency Shri Ram Nath Kovind. The honorable guests attended paid their respect worshipping the Buddha statue and a budding branch of the Sri Maha Bodhi was also planted by his excellency, Sri Ram Nath Kovind at the same premises. The morning ceremony was also graced by
the Secretary General of the IBC, Venerable Dr. Dhammapiya thero, as well as the cultural Minister Sri Gangapuram Kishan Reddy, Mr Sri Arjun Ram Megwal and Ms Meenakshi Lekhi.
The Hon. President as well as the Prime Minister Shri Narendra Modi addressed the global Buddhist community expressing their best wishes.
India is a country full of diversity, providing nests to so many religions, giving freedom to follow their own religion without boundaries and the precedent it shows is enormous. The government led by his Honorable President, the Prime Minister have faith in coexisting and the devotion is very well appreciated worldwide.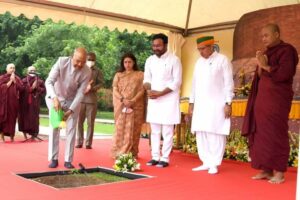 "Asadha Poornima" is a great example of the devotion India has towards Buddhism and the Bodhi sapling planting ceremony is an invitation to all the Buddhists to do better not only on this special day but carry it out as a habit.
Following the morning commemoration, the universal celebration began virtually where His Holiness the Dalai Lama presided over a series of greetings. Most venerable Makulewe Wimala Thero, the Mahanayake of Sri Lankan Ramanna Maha Nikaya represented Sri Lanka with a sermon.
Moving forward with the commemoration, from 12 noon onwards "Dammakkachakkapawatta Sutta" was chanted at the historic Abhayagiri Temple in Sri Lanka, followed with blessings of several eminent scholars in the world.
The commemoration ended with a program of mindfulness organised by the High Commission of India in Bhutan which was highly praised by Buddhists all around the world.
At a time when the whole world is affected by a pandemic, this universal celebration of Esala Poya day brought peace into the minds of the peoples.
The Buddhist world should thank the government of India for sponsoring this much valuable dhamma event organised by International Buddhist Confederation, New Delhi.