The ceremony to mark the 'Amarapura Day' of Sri Lanka's Amarapura Maha Nikaya was held on 8th July 2021 at Amarapura Sanga Sabha premises in Wellawatte, Colombo.
Most Ven. Ganthune Assaji Mahanayake Thero, the President , Sri Amarapura Maha Nikaya, Kamatahanacharya Most Ven. Chandasiri Thero, the General Secretary of Amarapura Maha Sanga Sabha, Prof. Pallekande Rathanasara Anunayake Thero, the Vice President of Amarapura Sangha Sabha, Most Ven. Dr. Waskaduwe Mahindawansa Mahanayake Thero, Judicial Sanga Nayake of Sri Lanka Ramanna Nikaya, Prof. Aththangane Rathanapala Thero, the Secretary General of Sri Lanka Ramanna Nikaya, Ven.. Aththangane Sasanarathana Thero, the Deputy Secretary General of Sri Lanka Amarapura Sangha Sabha Dr. Madampagama Assajee Anunayake Thero, Assistant Secretary General of Amarapura Sangha Sabha Ven. Balapitiye Siri Seewali Thero, Assistant Secretary General of Sangha Sabha Shashrapathi Kithalagama Hemasara Anunayake Thero, Assistant Secretary General of Amarapura Sangha Sabha Ven. Dodampahala Siri Suguna Nayake Thero and Secretary of Amarapura Nikaya Batapola Medananda Thero took part in the event.
Hon. President of Amarapura Abhiwurdhi Dayaka Sabha Deshamanya Mr. Ajitha De Zoysa, Secretary Mr. R.A. Sirisena, member of Nikaya Arakshana Sabha Major Mangala Fernando and the members of Dayaka Sabha too participated in this ceremony.
This ceremony was held adhering to the health guidelines imposed by the government.
The first Sri Lankan documentary film on Amarapura Maha Nikaya was launched at this ceremonial occasion.
This Research Documentary was produced by the Foundation for Buddhists Brotherhood. It was done under the guidance of the President of The Foundation Dr. Damenda Porage. Akash Tharuka Perera, Denuwan Sri Bandara and Theshan Weerarathna of Youth Celebrity Forum designed this Documentary movie.
This documentary film was presented to Maha Sanga during the ceremony.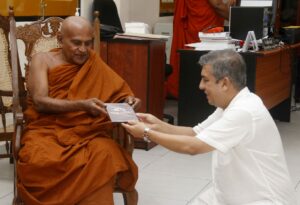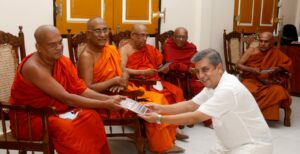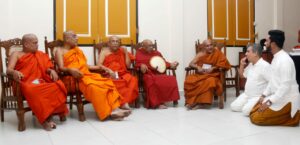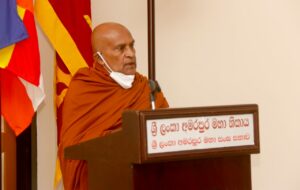 On this Amarapura Day, we would like to wish Sri Amarapura Maha Nikaya the strength to serve the Buddhist community in the world and to uplift the Buddhasasana in Sri Lanka.
© Buddhist Brotherhood