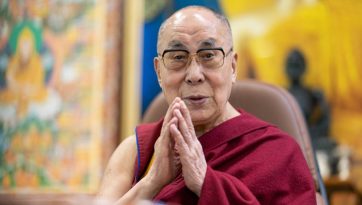 HIS HOLINESS THE DALAI LAMA'S MESSAGE FOR VESAK
On this auspicious remembrance of Lord Buddha's birth, enlightenment and mahaparinirvana, I am pleased to convey my greetings to fellow Buddhists across the world.
Vajrasana, the Adamantine Seat, as Bodhgaya is known in our scriptures, is the most sacred of Buddhist pilgrimage sites associated with Shakyamuni Buddha, our compassionate and founder-teacher of our spiritual tradition. It was here that the Buddha attained Enlightenment (Mahabodhi), following which he bestowed teachings on the Four Noble Truths, the Thirty-seven Factors of Enlightenment, and others. The key to his teachings are instructions to discipline the mind for the benefit of sentient beings as infinite as space.
The heart of the Buddha's teaching is the combined practice of compassion and wisdom. The practice of bodhicitta, the altruistic spirit of enlightenment, is the essence of all his teaching. The more we become acquainted with a concern for the welfare of others, the more we will regard others dearer than ourselves. We will recognise our dependence on each other and will remember that all 8 billion people in the world today are same in wishing to be happy and to avoid suffering.
Therefore, on this special occasion, I urge my spiritual brothers and sisters to be warm-hearted and lead a meaningful life, to be dedicated to the welfare of others. Warm heartedness is the key to peace and harmony in the world.
With my prayers and good wishes,
Dalai Lama