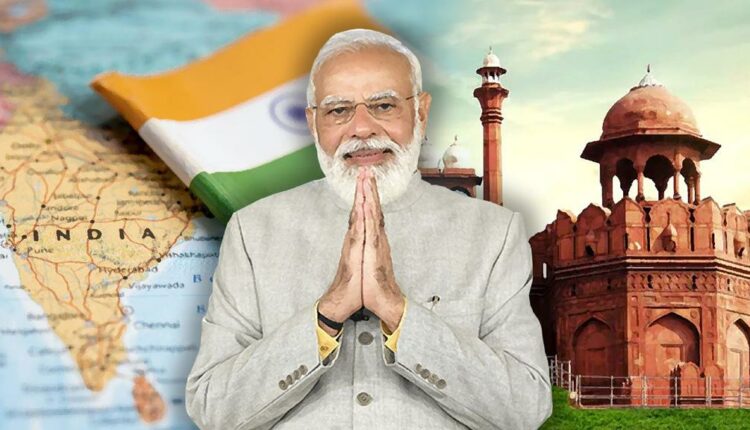 AS INDIA CELEBRATES HER 74TH REPUBLIC DAY, BUDDHISM THRIVES GLOBALLY UNDER MODI GOVERNMENT
Dr Damenda Porage - Deputy Secretary General, International Buddhist Confederation
India, our invaluable and closest neighbor and the largest democracy in the world, today, marks her 74th Republic Day. The day commemorates the adoption of the Constitution of India on January 26, 1950. After this, India became a sovereign state, declaring it a republic. Despite India's Independence in 1947, the constitution of India came to effect on the 26th of January, 1950.
The bond between India and Sri Lanka has been growing strongly throughout the years. India, being our oldest friend, the closest relative, has supported us spiritually, culturally and politically, and it is without a doubt a kinship that goes back to prehistoric times.
India is not only the land of the Buddha where he attained Enlightenment and taught his noble concepts throughout his life until his maha parinirvana but it is also the land that, without any prejudices, fostered, protected and internationalized Buddhism over the millennia with the active involvement of its emperors, especially the great Dharmashoka, kings, and majority of its post-independent national leaders with the divine mission still continuing.
The present Prime Minister and internationally renowned statesman Shri Narendra Modi has over and again demonstrated his desire and indomitable spirit towards protecting and preserving such holy sites as shrines, temples, archaeological sites and everything related to Buddhist heritage in India while also instituting uninterrupted and far-sighted measures under his government to take the Buddha's message to nations across the world and to promote and expand Buddhism on a global perspective.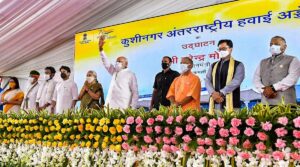 Pages of history of recent years have recorded many incidents to portray PM Modi's indomitable spirit towards that cause.  He visited Sri Lanka's capital Colombo in May 2017 to take part as the Chief Guest in the in the celebrations of the UN-declared International Vesak Day; under his direct involvement the  airport of Kushinagar where the Buddha lived his last days was promoted as an international airport with Buddhist spiritual leaders from several countries taking part in it, including a 100-member deputation of the Sri Lanka Maha Sangha and a Sri Lankan cabinet delegation; and Prime Minister Modi himself taking part as the Chief Guest. He attended the Buddha Purnima celebrations in Lumbini together with the then Nepalese Prime Minister and other national leaders. Union Ministry of Culture, under his government, continues extending financial assistance and support towards preserving Buddhist historical and archaeological sites in India and elsewhere in the region. Several Buddhist organizations are involved, mainly the International Buddhist Confederation, having its headquarters in New Delhi and having branch offices in many countries, are actively involved in Buddhist religious and cultural activities based in India.
India's Ministry of Culture also celebrated Buddha Jayanthi at Indira Gandhi Stadium in New Delhi, in cooperation with the International Buddhist Confederation (IBC) and Prime Minister Modi who inaugurated the event emphasized, while speaking on that occasion, on the importance of Buddhist diplomacy to India's relations with other (predominantly Buddhist) countries in Asia. In another Buddhist religious ceremony in Sarnath, PM Modi gave Sangha Dana to the Maha Sangha present, and also presented the Vishakh Samman Prashasti Patra Award to the Central Institute of Higher Tibetan Studies in another such occasion. He gave a similar award at Bodh Gaya to the All-India Bhikkhu Sanga for their efforts to preserve and promote India's Buddhist heritage, art, culture, and Buddhist studies.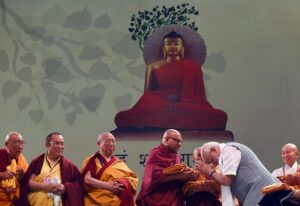 The innovative five-year Pali and Sanskrit International Bhikkhu Exchange Program (2022 – 2027), launched recently on December 27, 2022 at Bodh Gaya was the continuation of one among such far-sighted activities to promote Buddhism in the region and across Buddhist countries in the world. The Mahanayake Theros of all three Nikayas of the Sri Lankan Maha Sangha together with hundreds of other senior members of the Maha Sangha attended it and His Holiness the Dalai Lama, delivered his lofty Buddhist teachings on that occasion for three consecutive days.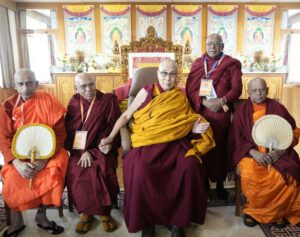 While all praise and gratitude go to Prime Minister Shri Narandra Modi and his government, the role that is continuing to be played by His Holiness the 14th Dalai Lama, for the last over sixty years, while staying in his monastery located in Dharamshala, Himachal Pradesh, India is also remarkable and praise-worthy in relation to propagation of the message of peace based on Buddhist philosophy in countries across the world. The Dalai Lama is the present world-recognized and world-renowned Buddhist spiritual leader, constantly travelling from county to country, especially to the Western hemisphere, taking the message of the Buddha, incessantly conducting lectures, talks, teachings and meeting with political and spiritual leaders. with view to safeguard Buddhist Teachings and practices. His Holiness the Dalai Lama is considered a living Bodisattva, specifically, an emanation of Avalokitesvara.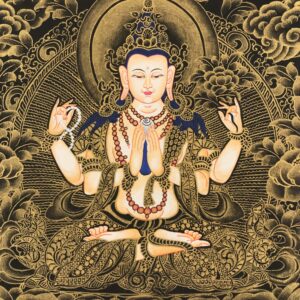 There again the government and peoples of India and their national leaders deserve all acclaim and homage for having provided His Holiness the 14th Dalai Lama and his people a home in India for over six decades; the freedom, cooperation and all support for him to speak for the democratic rights of not only his own people but such rights of all  oppressed people of countries across the world; for taking the noble teachings of peace and brotherhood of the Buddha to the world and involving himself in Buddhist cultural and religious activities.
Being the spiritual as well as temporal leader of his people and fled his land in May 1959 under threat to his life from the invading communist China. His Holiness the Dalai Lama is participating in virtually all major and internationally important Buddhist religious activities in India and in other world nations. He has remarked that: "I have lived here in Dharamshala for several decades now. I enjoy it. I can communicate with everyone from here wherever they are. I am free and I told the former Indian PM that I would like to remain here for the rest of my life because here I have complete freedom."
With his immense and untiring work and contribution towards Buddhist revival and for the internationalization of the Buddhist thoughts of non-violence, brotherhood, harmony, peace, happiness to mankind and a war-free world, combined with the support and assistance and involvement of Prime Minister Shri Narendra Modi and his government, it may not be too long before world nations and world leaders realized what a glorious state of peace and happiness the teachings could bring to mankind.
Buddhist scholars have compared the role that Prime Minister Shri Narendra Modi has been playing as a world-recognized statesman towards internationalizing Buddhist concepts is pivotal to the role that Emperor Dharmashoka played millennia back towards that cause. In extending every support and cooperation to His Holiness the Dalai Lama, and his followers in India to take the message of the Buddha across the world, despite vehement and continuing protests from China;  his government's committed involvement towards preserving Buddhist historical, cultural and archaeological sites;  his government's support and direct involvement in all Buddhist religious activities, celebrations and festivals; entertaining with open arms Buddhist religious tourism and he himself visiting and taking part in some of such important celebrations, Prime Minister Shri Narendra Modi is extending yeoman services for the promotion of the noble Buddhist doctrines throughout the world. Certainly, this trend under the able leadership of the Indian Prime Minister would instill in the minds of political, religious and corporate leaders sublime thoughts of brotherhood, compassion and non-violence for a peaceful, harmonious, happy and war-free world of tomorrow.
Whilst standing in solidarity with India, on this 74th Republic Day, the Maha Sangha and the people of Sri Lanka  wish the largest democracy and the vibrant nation lasting peace and bountiful prosperity in the years to come.